For my local And regional friends and anyone else who can make it,
My CD release Party tickets are now for sale.
Thursday July 20th at:
Folktale Winery in the Rose Garden.
Doors open at 5:00. Minors are welcome!
There are a limited number of tickets available and we do expect a big turnout so get your tickets early so you don't miss out 🙂
You can purchase your tickets here:
https://garymeek.eventbrite.com/
The Gary Meek Quintet Featuring:
David Hoffman – Trumpet/Flugelhorn
Eddie Mendenhall – Piano
Dan Robbins – Acoustic Bass
Skyler Campbell – Drums
We'll be playing all the music from my New CD – "Originals" –
The CD will be for sale at the party! This is a pre street date party for my local and regional friends. It is not released to the public yet so If you get the CD at the party you will be among the first few to have it.
Response to this band and this music has been fantastic and we anticipate another great evening in this magnificent setting! Special thanks to Mark Governor and the Folktale Winery for allowing us to have our party in such a beautiful place.
Hope to see you all there!
Here is a preview of the Cover and some remarks from people who have heard it already.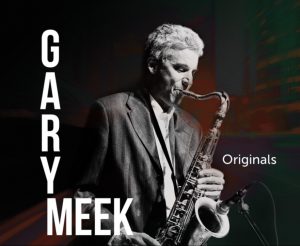 "On Gary's new recording entitled Originals, he shows serious jazz chops and a strong compositional spirit well suited to his playing. The stellar supporting cast dig deep into the charts with outstanding results. Gary has flown "under the radar" for years and this new recording should help bring him to the forefront as a bandleader."
Tim Jackson – Artistic Director
Monterey Jazz Festival
"Gary Meek is a masterful player, and gifted writer. I was thrilled to be asked to participate on this recording, and found the music to be joyful, as well as challenging. I'm happy that Gary is stepping out more as a leader in these musical times, eloquently demonstrating the many dimensions of great tenor playing."
Terri Lyne Carrington
"I'm thrilled that Gary Meek has decided to step forward as leader and composer in such an emphatic way.  Widely known as a masterful, sensitive, and versatile horn player throughout the jazz community, Gary has taken that command and experience and created a recording that is both original and visionary. I couldn't be more honored and pleased to have been asked to be a part of this project, and await the next with great anticipation. The Meek has inherited the earth!!!"
Bruce Forman
Gary Meek is a great instrumentalist with a big, beautiful tenor sound. He has made a compelling recording of adventurous arrangements and great playing all around. I've totally enjoyed this music on first listen, and plan to listen several more times. Bravo to you, Gary!"
Bob Mintzer
Saxophone-Yellow Jackets, Chair of Jazz Studies USC Thornton School Of Music
"This is really a great CD, full of the under-recorded Gary Meek's incredible solos and heartfelt compositions!"
Randy Brecker
"Gary is one of my favorite musicians to play with and listen to, bringing his time, phrasing and melodic approach to the table through his horns, and bringing in great compositions as well. This CD is another great example of all those talents and more! "
Dave Weckl
" This is the guy who only needs to play one note to grab your soul. With that deep and gorgeous sound of his, he will tell you a story that even he himself hasn't heard before. I had the pleasure of listening to his beautiful stories every night when we traveled together with Dave Weckl's Acoustic Band. They always start completely different, seem to continue forever, and go beyond one genre. They take me to places I have never been before. Gary's got so much vocabulary on which to draw, and  to create so many different variations of his own beautiful world. His passion, respect, integrity, and love towards music are something you never miss feeling from his music.
Makoto Ozone
Gary's new CD – "Originals" – more than exemplifies his genius as not only an accomplished instrumentalist, but also as a prolific composer. As he plays, his sound, technical facility, and  brilliant improvising skills, all add up to a magical listening experience, and just as his predecessors before him are always, seemingly limitless. Gary has the innate gift of not only communicating with his music but also the masterful way of taking the listener on his journey as he plays on. A perfect example of all this is very evident on his new CD
George Young
I've always admired Gary Meek's sound and command of the horn. His new offering "Originals" has a beautiful flow, featuring both his tender side and ferocious versatility.
Bob Sheppard
We've played a lot of music together in this lifetime, and, again, you surprise me. This CD has the essential elements music requires to be pleasant, strong, and easy to listen to, without being boring. The compositions, arrangements and musicianship are excellent. The sound and the mix are round and transparent. Congratulations. I love it!
Airto Moreira
Gary Meek combines a unique mastery of his instrument with endless creativity and passion for music and the result is on full display on this excellent collection of songs. It was an honor to play a part in this recording and a true pleasure to hear the final result. Gary's playing and writing is beautiful throughout and the production is flawless. This record deserves to be heard far and wide!
Michael Lent
Gary once gave me a saxophone lesson and encouraged me to play long tones.  I just wanted to learn how to play harmonics like Coltrane.  I suspect that Gary has put in many hours of long tone practice as his technique is amazing and he continually amazes me at how effortlessly he is able to make his unique voice heard.  It is obvious from this recording just how skilled he is; as a player, a composer, and a band leader.  What you might not know is that Gary is also an excellent piano player.  He sent me some demos of these songs where he'd played piano.  Brilliant. So being around Gary has had two serious consequences for me.  I have given up trying to play the saxophone and realize that I must practice piano to stay a half step ahead of Mr. Meek.  It was a privilege and honor to be part of this project and I trust you will enjoy the ride.
Mitchel Forman
For those of you who are not familiar with Gary as a solo artist, you will instantly become a fan for life. Even if you know his playing from the countless records on which he has recorded, you will get to truly know Gary as a person with this CD, as he bares his soul and opens up his spirit in a very honest and sincere way.
Gary and I have been friends for many years and have played music all over the world. We have also recorded together many, many times. But, even for those of us who know Gary well and are fans of his playing, we are blown away by the depth and honesty of this recording.
I, as the producer – as well as the bass player, on this CD, could not be more proud to be a part of something that is so special. It is truly a wonderful feeling when the music is so inspired that it takes on a life of it's own.
Thank you, Gary, for trusting me with your music, I could not be happier for you!
Brian Bromberg