Playing at the 61st Monterey Jazz Festival
Sunday September 23, 2018
Gary Meek on Saxophone
Akili Bradley on Trumpet
Eddie Mendenhall on Piano
Dan Robbins on Bass
Skylar Campbell on Drums
Recorded, produced, and mixed by Thomas Zink – Pluri Laminus Productions
Run-time: One Hour, 13 Minutes
File Size: Zip file with .mov video file inside.
Approximately 8.3 GB file. That is a fairly large file. Meant for computers, not phones or tablets.
If you have a 1 MB/s download speed, it will take a bit more than two hours.
Streaming: You will also have an option to stream the video once you purchase.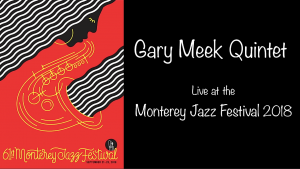 You will be sent to a new page to download the video after you complete the purchase.
Click on 'Return to Merchant' following purchase.
If you have trouble downloading, contact Neal Battaglia